Mary Reid (or Timney) was the last woman to be publicly executed in Scotland. She was hung in Dumfries on the 29th April 1862 after being convicted of murder. The story of the execution seems particularly horrific.
On 13th January 1862 the body of Ann Hannah was found in her home outside of Kircudbright. She had been stabbed and beaten. Her nearest neighbour, Mary Reid, initially denied having heard anything of the incident, but a search of her house led to the discovery of a bundle of bloodstained clothes hidden in her loft, and a wooden mallet with traces of hair and blood. And in a cruel twist, the Mary Reid's own children stated that these were the clothes that she had been wearing that morning. She was tried before Lord Deas and found guilty and sentenced to death.
The execution took place Dumfries in front of the Buccleugh Street prison before a crown estimated to be about 3,000 people (though it is common for these numbers to be inflated in the contemporary accounts). She had petitioned the Home Secretary for mercy, in part because she was the mother of four young children, and after the noose had been placed around her neck there was apparently a cry from the crown that a reprieve was coming. A man ran to the scaffold and delivered a piece of paper, which was read by the prison governor. After a few moments, during which time the prisoner was left on the scaffold, hooded and with the noose around her neck, he announced that it was merely a letter from a London newspaper asking for an account of the hanging to be sent. At which point, before the crowd could become restless, the executioner,
William Calcraft
, released the trapdoor.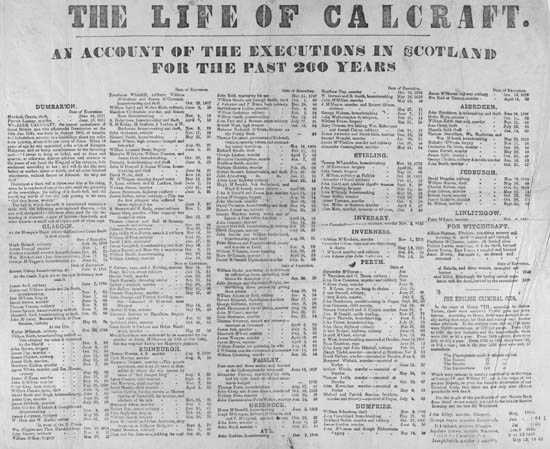 It is hard not be struck by the callousness of this case, and it is perhaps not surprising that cases of this sort led to the ending of public executions in 1868. Historians have shown that the taste for public spectacles of this sort was in decline - at least among the opinion forming middle classes - and perhaps just as importantly the authorities were aware that these kind of large gatherings carried enormous potential for unrest and were not quite the public display of justice they might once have been. In fact the use of capital punishment was in decline throughout the nineteenth century. Although it was formally available as a punishment for a range of crimes in Scotland until 1887, and the passing of the Criminal Procedure Act of that year, it was in practice almost exclusively reserved for murder from the 1830s on, and the 1887 Act was merely confirming the existing practice. And though Scotland had, for a long time, prided itself on the leniency and humanity of its criminal justice system (at least compared to England), reading accounts like this suggests that understanding of what was humane may be relative.
[I am very grateful to Jayne Baldwin, who is working on a book about this case, for bringing this to my attention]